The Cape Neddick Light Station is sometimes referred to as "The Nubble" by locals, and "Nubble Lighthouse" more broadly. It is situated on a tall, mainly naked rock outcrop off York Beach that is linked to the mainland by a bar at extremely low tide.
Its picturesque setting and quaint appearance contribute to its recognition and enduring appeal. The surrounding area is also popular for scuba diving, bird-watching and fishing.
History of Nubble Lighthouse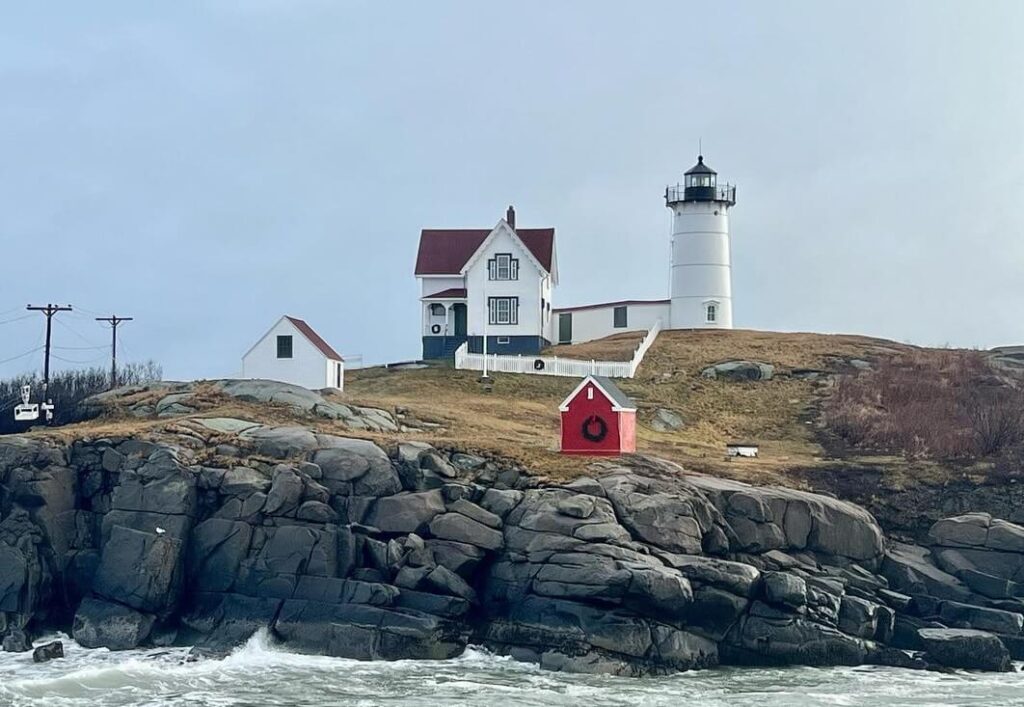 President Hayes authorized the construction of Cape Neddick Light in 1879. It is situated on the northern side of what local fisherman have long referred to as the "Nubble," a point that is only 600 feet off the coast of York.
The Devil's Oven, Bald Head Cliff, and Pulpit Rock, three remarkable rock formations, may be seen from the lighthouse.
The original tower, which is a roughly 40-foot-tall cast iron structure, was constructed in 1879. In 1928, a fourth-order Fresnel lens was installed to suit the unique needs of local mariners.
Its red light has a 13-mile range and flashes red 6 seconds on, 6 seconds off while shining 88 feet above sea level.
The property is undoubtedly lovely to gaze upon and still houses the Victorian-era keeper's quarters that were also completed in 1879. The striking red oil house, storage building, and boathouse are all still intact, but the sound signal structure has been demolished.
A cable pulley system was deployed for many years to deliver supplies from the mainland to Cape Neddick Light. Interestingly, in the 1960s, keeper David Winchester began using the bucket to take his child to school on the mainland!
Nubble Lighthouse is an original cast iron structure dating back to 1879. It sits at a modest 40 feet with an elevation of 88 feet. It is an especially picturesque and popular beacon of the Maine shoreline. It houses a fourth-order Fresnel lens.
Planning Your Visit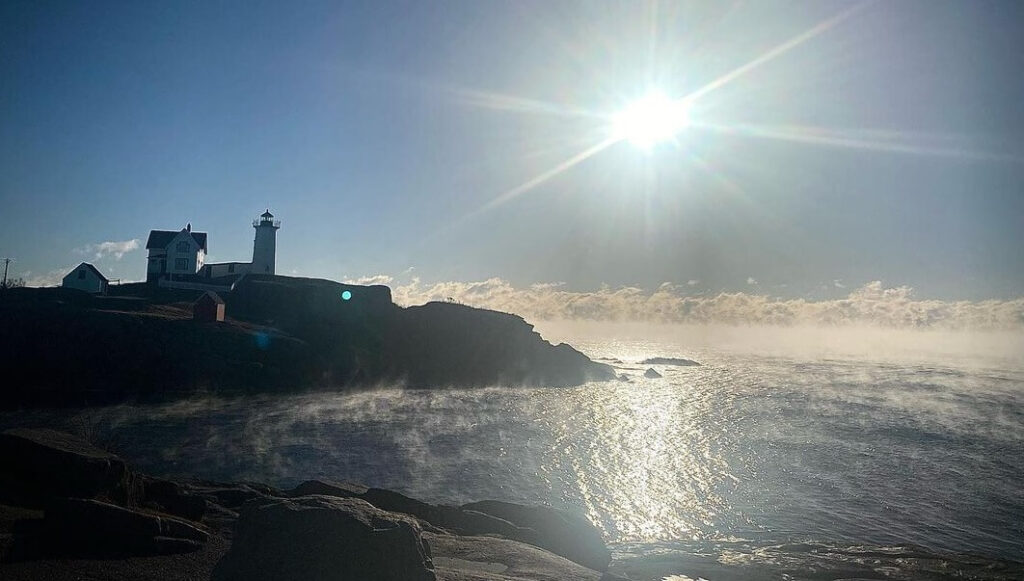 Upon reaching the shore of Sohier Park (adjacent to the lighthouse) there are a few things that immediately catch the eye.
On the island, there are five buildings: the red brick oil house, the wooden one-story workshop, the boathouse (with access leading to the water), and the lighthouse keeper's house, a single gable, converted wood-built structure with six rooms that is connected with the light tower itself by a covered passage.
Although you're left to guess looking on from the outside — a total of 32 iron steps comprise the stairway leading to a circular watch room set atop the modest, near 40-foot light tower, which itself is made of iron and has a brick interior.
The lantern is surrounded with glass panes with those facing the land tinted in a ruby color and those facing the water in white. It is located half-a-dozen steps further above the watchroom.
A fourth order light is mounted on the tower. Lenses of this type are commonly found in harbor lighthouses and provide a particularly strong and focused signal.
Unfortunately, visitors cannot reach Nubble Island. However, the lighthouse can be plainly and quite beautifully appreciated from Sohier Park on Cape Neddick, which is just a few hundred feet away. It makes for an ideal spot to observe the tower, especially during a stunning sunset.
The park has a gift store, and sales there go toward renovating the structures.
Getting There
Take exit 4 off I-95 west of York and go east to Route 1
From Route 1, go south to Route 1A, then turn east
Turn right onto Nubble Road
To see both Boon Island Light and Cape Neddick (Nubble) Light, follow Nubble Road to Sohier Park
Nubble Island contains five structures (including the light tower). Although it cannot be reached by visitors, its proximity to the shoreline makes for stunning and close up views.
Interesting Facts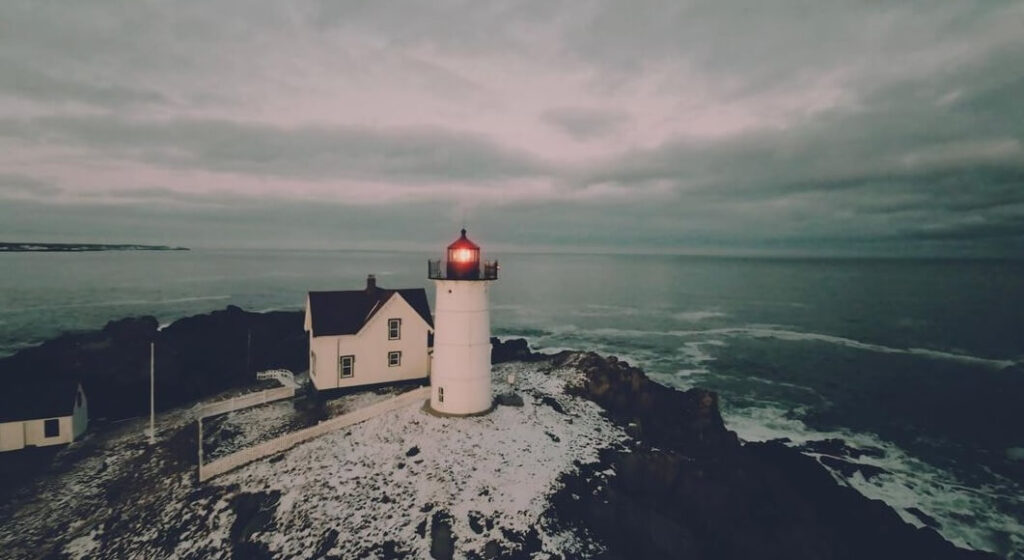 The Cape Neddick Light Station is a crucial navigational landmark that directs ships away from the sharp rocks at its foot. It is situated on a high point jutting out into the Atlantic between Portsmouth and Portland.
Since it is one of the few stations that has never been rebuilt and is easily accessible from the mainland, it has become a haven for artists and visitors.
A settlement and peninsula in the town of York called Cape Neddick is home to Nubble Light. The Nubble is a narrow sliver of land with a little island at its point, thus the name.
It is said that the lighthouse is situated on the dot of the letter 'i', referring to the rocky outcrop at the tip of the peninsula, on which the lighthouse is built.
A novel cable car system was employed by the team at Nubble Light to transport supplies (and sometimes people!) between the mainland and the island. This automobile, which was later taken away, was a roughly five-foot-square wooden box.
Platforms were put in place to load and unload whatever was required, and a cable was strung from telephone poles that were built at both ends. Even now, the wires are still in use, and there have been fruitful efforts to restore the platforms and vehicle.
The light station was automated in 1987, and the Coast Guard leased it to the local authorities of York in 1989. In 1998, the lighthouse was formally transferred to the town under the Maine Lights Program. Nubble Lighthouse is among the most frequented, painted, and photographed lighthouses in Maine.
When NASA sent Voyager II into orbit in 1977 carrying a photograph of the lighthouse, it became the first lighthouse in America to go outside our solar system.
The keeper's home and light tower were scraped, sanded, and painted white again in 2018.
Nubble Lighthouse takes its name from the narrow stretch of land leading to the small island housing the tower. The light station was automated in 1987 and is today under the stewardship of the town of York, ME.
Key Information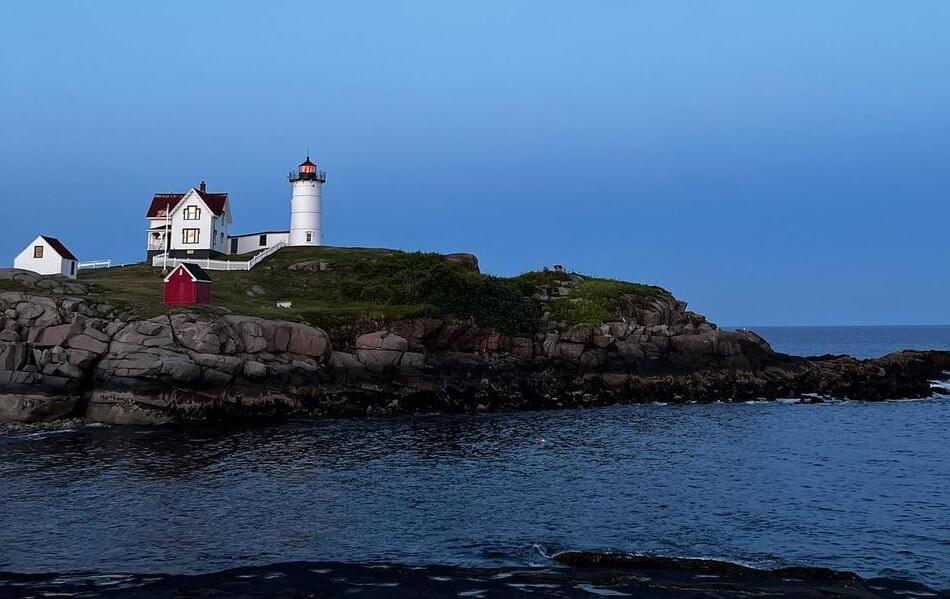 | | |
| --- | --- |
| Location | Near York, ME (43° 09′ 54″ N,  70° 35′ 27″ W) |
| Established | 1879 |
| Height | 41 feet (88 feet above sea level) |
| Type  | Conical tower |
| Construction | Cast Iron (Brick-Lined) |
| Architect | US Army Corps of Engineers (original) |
| Sequence | Red light (ON – 6 seconds, OFF – 6 seconds) |
| Fog Horn | 1 sound every 10 seconds |
| National Register of Historic Places | Added 1985 |
| Administrative Address | Friends of Nubble Light, York, Maine 03909, 186 York St. |
FAQ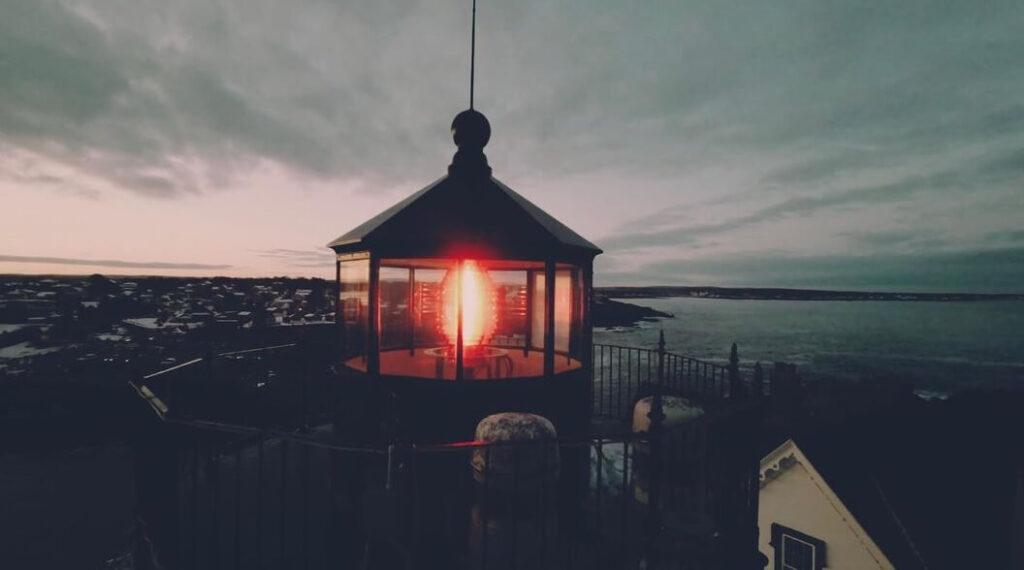 Where is the best place to park?
Sohier Park is located at the tip of Cape Neddick. It is reached from Nubble Road and houses the parking area of Nubble Light. It has capacity for 60 vehicles and is open during peak visitation months (from approx. mid-April through mid-October). Note that inclement weather can still occasionally force its closure during these months. The Nubble Lighthouse site is also a short walk from other parking areas on Cape Neddick and York Beach.
Where is the best place to view and photograph the lighthouse?
Undoubtedly, Sohier Park is the best spot if you're interested in taking videos or photographs. The area is also popular with local artists. Unlike Maine's far-offshore lighthouses, Nubble Light is just a few hundred feet from the best vantage points of Sohier Park. For this reason. it's not necessary to book a cruise or charter a boat to see the lighthouse from reasonably close distance. The lighthouse can also be enjoyed via a number of webcams.
What other facilities and services are available?
Nubble Light hosts weddings and might be the perfect spot for a couple with a soft spot for coastal scenery. The souvenir shop is open all day (until approx. 7pm) from May through October. Scuba diving is a popular recreational pursuit during the warmer months. Pleasantly maintained restrooms and a water fountain can also be found. Fishing enthusiasts will find plenty to keep them occupied and dogs are allowed if leashed. Wildlife spotters can keep an eye out for Sun Fish, Gulls, Harbor Seals, and Double Crested Cormorants.
What are the best dining and accommodation options nearby?
Gateway to Maine is a website maintained by the York Chamber of Commerce and is a useful resource for identifying good lodging and dining options. It also maintains a list of interesting local events. Fox's Lobster House is a much-loved dining option and is situated right by Sohier Park. It is housed inside a beautiful, sloped-roof blue building. Cape Neddick is home to numerous guesthouses including Lynwood Inn and The Lighthouse Inn & Carriage House.
Video