Towering over a rocky outcrop in Portland's Harbor, Ram Island Ledge Light appears to soar straight out from under the sea at high tide. It was built in 1905 as a no-frills conical granite tower with an accompanying skeleton pier.
History of Ram Island Ledge Light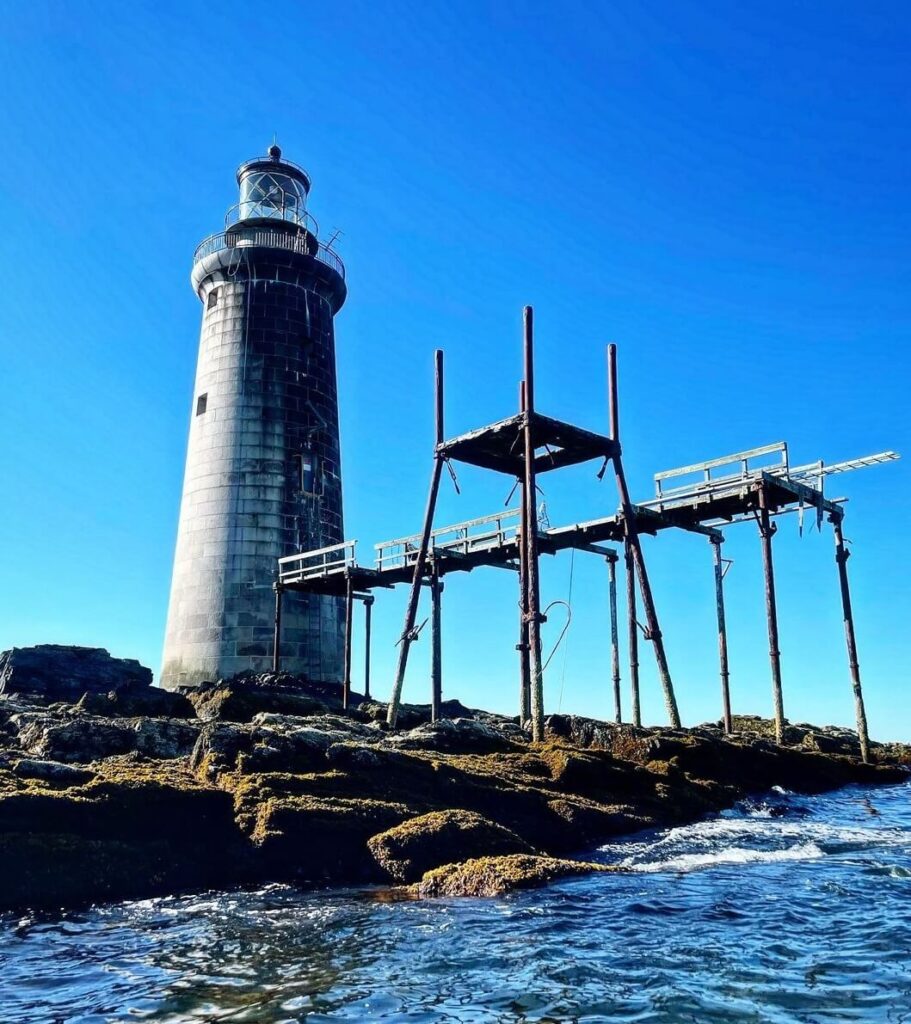 Located at Portland Harbor's entrance, Ram Island Ledge Light Station was built in 1905. It was deemed necessary to build a lighthouse to indicate the presence of treacherous and often submerged rocks that line the northern side of the harbor.
The grounding of the steamship California on a ledge in this location in 1900 became a catalyst for action. The estimated cost of the light station construction project was pegged at around $160,000, of which Congress agreed to supply half in 1902.
When the British schooner Glenrosa ran aground on the reef in September 1902, in the midst of a dense fog, no work had even started. The following winter, another two fishing schooners met their doom in the area.
The dire need for a light and fog signal at this position in the congested shipping channels close to Portland was underlined by these accidents. In April 1905, the light had its unveiling. It was automated in 1959.
Ram Island Ledge Light was built in response to a number of accidents in this area of dangerous submerged rocks. Plans got underway in 1900 and it was ultimately opened in 1905.
Planning Your Visit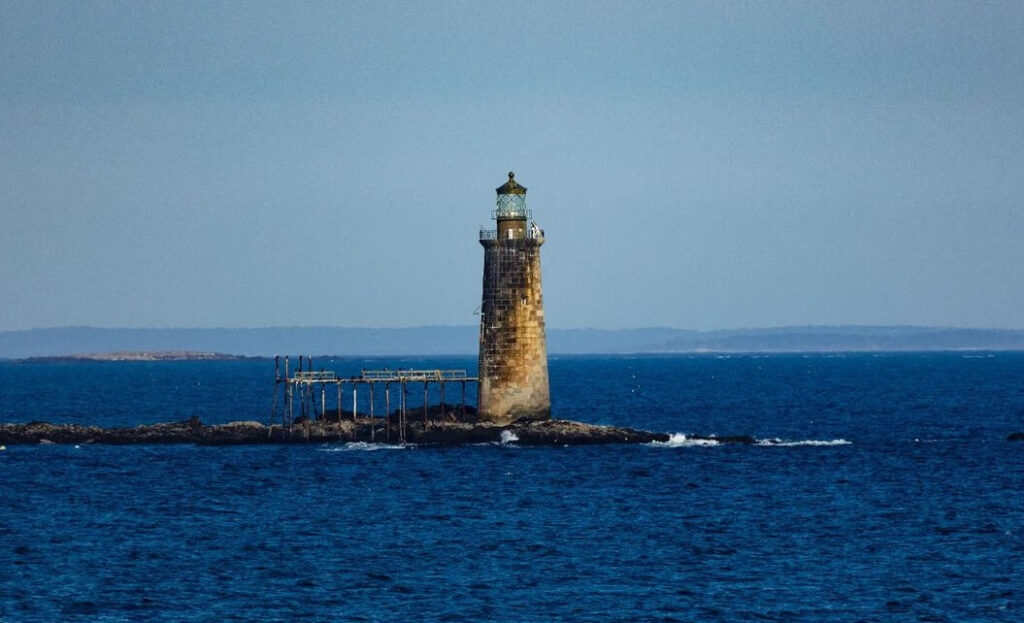 Ram Island Ledge Light is situated in Casco Bay, closest to the town of Cape Elizabeth, at the northern access to Portland Harbor. Public viewing of this light is not possible, however it may be seen from Fort Williams Park, where the Portland Head Light is located, or from a boat excursion.
During the summer, Ram Island Ledge Light and a number of other lights in Portland Harbor feature in the various different cruise/boat excursions offered by operators in the area. Portland Discovery is among the most well known.
Private charters out of Cape Elizabeth or Portland will also provide an alternative option to intrepid enthusiasts.
What you'll see (and what's inside)
The tower contains a keeper's quarters and storage spaces. From its base to the center of the circular lantern, it reaches a height of 77 feet.
On the west facade, a close inspection will reveal a tiny square window. Just beneath this window is a door that can be accessed by climbing a ladder rising from the pier. The south side has a further two windows while the eastern face has just one.
The tower base is surrounded by sculpted granite and features a simple iron railing.
The distinctive spherical lantern has a diamond-paned glass covering and an iron base that supports the contemporary beacon.
Ram Island Ledge Light is situated in Casco Bay and can be observed from Fort Williams Park (home to Portland Head Light). Those seeking a closer look may wish to book a cruise or charter a boat.
Interesting Facts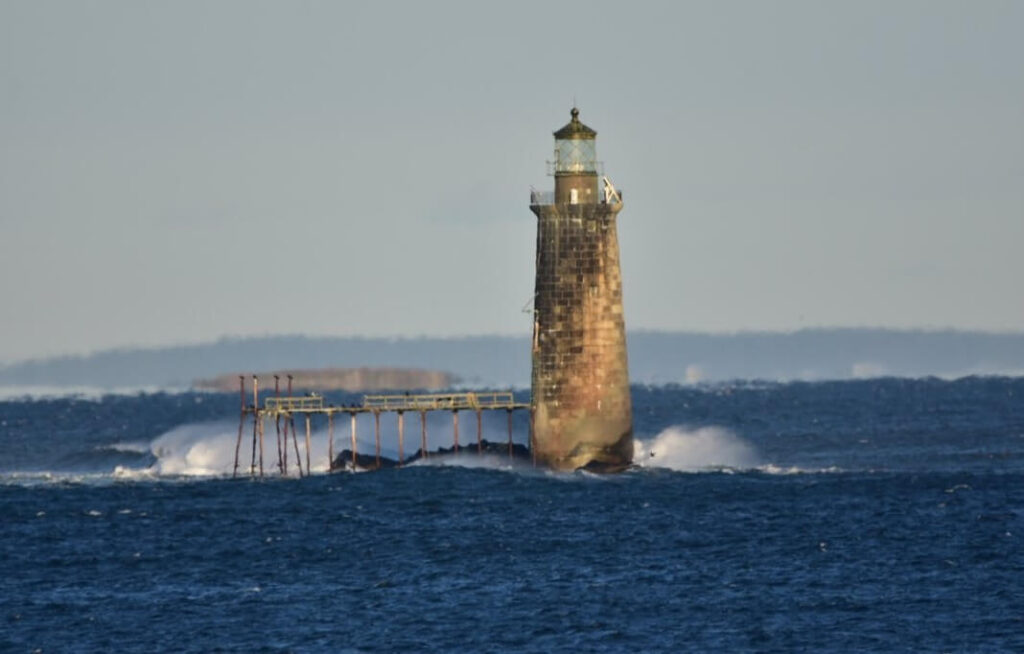 Ram Island Ledge Light, which should not be confused with Ram Island Light in Fisherman Island Passage, is situated on the north side of Portland Harbor's entrance.
It was constructed in 1905 to identify the partly submerged ledge that extends from Ram Island to the port, making it one of Maine's more recent lights.
Despite having an iron spindle there since 1855, Ram Island Ledge was nevertheless the site of several shipwrecks; it wasn't until the 400-foot transatlantic ship California came aground there in 1900 that the government decided to build a lighthouse.
The 77-foot tower, which is composed of granite stones and has an 8-mile range, is 78 feet above sea level. This lighthouse's construction was especially challenging since, with the exception of a few hours each day, the site remains submerged.
To be ready for assembly once they reached the ledge, a total of 699 four-ton blocks were cut and numbered before they left the quarry in Vinalhaven.
Ram Island Ledge Light, which was once outfitted with a third-order Fresnel lens, currently functions as an active aid to navigation with a 300-mm solar-powered optic that flashes white twice every six seconds.
Although they are part of the tower, the keeper's rooms have not been utilized since the station was automated in 1959. Ram Island Ledge Light is noteworthy as one of the few lighthouses in Maine with the keeper's quarters within the light tower.
The granite tower is somewhat similar to Boston's Graves Light, which was constructed a year after Ram Island Ledge Light.
Before the light was mechanized, keepers worked daily 12-hour shifts for a fortnight, followed by a week off on shore. In both 1998 and 2009, the Coast Guard's attempts to transfer the light to charitable groups were unsuccessful.
Ram Island Ledge Light was thus placed up for public sale in an online auction in 2010. A Maine physician placed the winning offer of almost $200,000 and pledged to preserve the tower.
Key Information
| | |
| --- | --- |
| Location | Near Cape Elizabeth, ME (43° 37′ 53″ N,  70° 11′ 14″ W) |
| Established | 1905 |
| Height | 77 feet (78 feet above sea level) |
| Type  | Conical tower |
| Construction | Granite |
| Architect | US Army Corps of Engineers |
| Sequence | White light (ON – 6 seconds, OFF – 6 seconds) |
| Fog Horn | 1 sound every 10 seconds |
| National Register of Historic Places | Added 1988 |
| Administrative Address | US Coast Guard (Aides to Navigation Team) (P.O. Box 5000, Southwest Harbor, ME 04679) |
FAQ
Where is the best place to view the tower?
For onshore viewing
Fort Williams Park is an excellent spot on the mainland for taking in views of Ram Island Ledge Light. The park is owned and operated by the Town of Cape Elizabeth and houses the more famous Portland Head Light. There is no admission fee and parking within the complex is also free. During peak season, premium parking places carry a charge but the overflow lot remains free.
How do I visit the tower?
For charters
Generally, charters will be available from Portland or Cape Elizabeth. See the link provided above.
For cruises
Portland Discovery (a local cruise company) offer some of the best experiences for those seeking up close views of the harbor's beauty. They are located at 170 Commercial St. in Portland, ME. Keep in mind that they do not offer customer parking and so you will have to seek out other options in the downtown area. Among the best are Ocean Gateway Open Air Lot & Simba Parking Lot.
Video