In 1874, two cast iron lighthouses sprung up on Cape Elizabeth's beach to serve maritime traffic in a busy coastal lane south of Portland.
History of Cape Elizabeth Lighthouse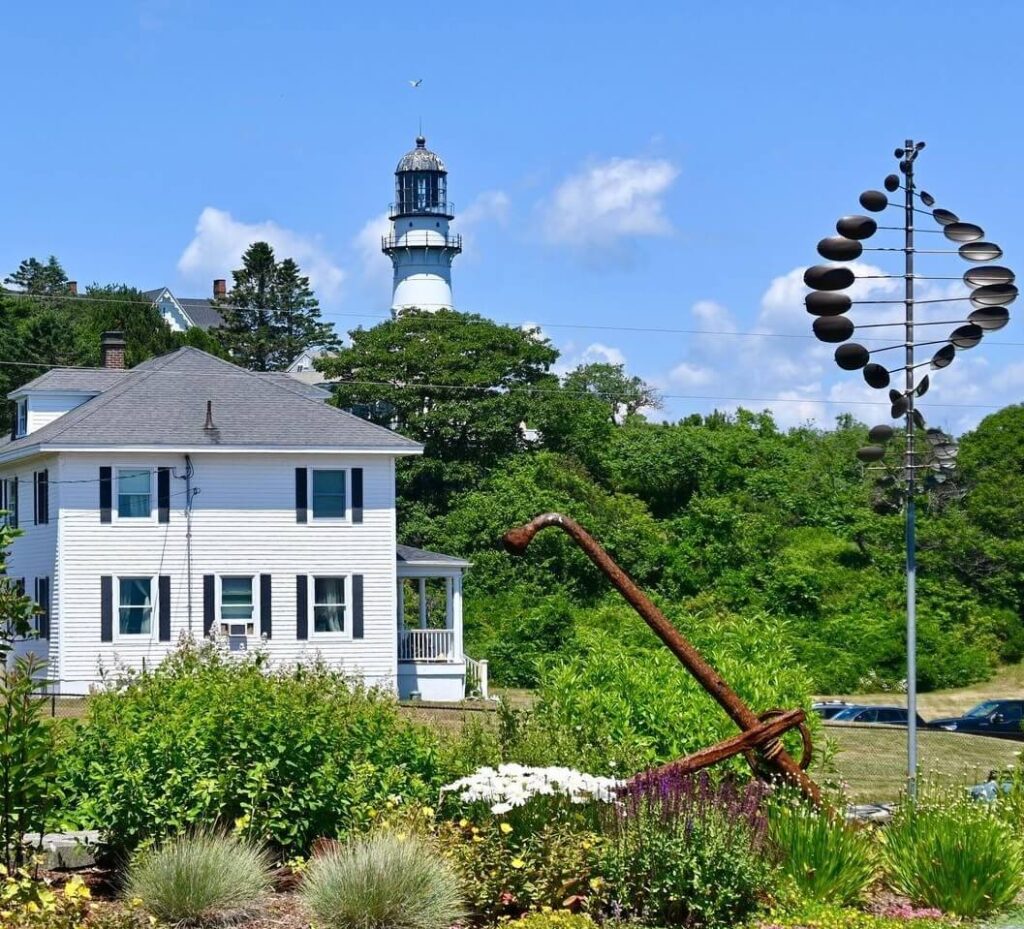 The rocky stretch served by Cape Elizabeth Lighthouse is one of the most crucial locations along not just Maine but the entire US's northeast coast.
It serves as a crucial landmark for coastal navigation and marks the entrance to the greatly significant Portland Harbor. These twin towers are a reminder of a time when many sites began using two lights for added range and function.
General Henry Dearborn, a famous Revolutionary War general, is reported to have built a 50-foot-tall rubblestone and lime mortar tower in this location as early as 1811.
A significant increase in shipping occurred in the second decade of the 19th century, and in the spring of 1827, the government gave its approval for the construction of twin 65-foot stone beacons that would rise nearly 130 feet above sea level.
The western tower flashed for 45 seconds on and 45 seconds off, while the eastern tower, which was 300 yards away, displayed a constant light. Both lights received the then-new Fresnel lenses in the mid-1850s.
The western light was abruptly decommissioned in June 1855, and it was finally extinguished in August of that year. Following a furor of protest, especially from fishermen who relied on the lights to triangulate the locations of their nets and traps, both lights were eventually returned to their original positions the following year.
It wasn't the last instance of controversy. There was a significant public uproar when the Lighthouse Board again decommissioned the western light in 1882 as part of an economic downsizing.
This decision was reversed largely due to the influence of Maine's local representative, Thomas B. Reed (US Congressman & Speaker of the House).
In 1924, the western light was finally shut for good. It lost its lamp during World War II and was converted into an observation post.
The west tower and 10.5 acres were sold in a public bidding process in 1959.
Because they were created as "ranging" lights, sometimes known as "leading" lights, the Cape Elizabeth lights are distinctive. Mariners regarded these lights as some of the most crucial along the coast of Maine.
Vessels entering Portland Harbor could line up the lights to see that they were securely on route, which is why they were oriented east-west.
The two stone towers constructed in 1828 were declared to be in such bad condition by the Lighthouse Board in 1872 that they required reconstruction.
In 1874, a pair of identical 67-foot cast-iron towers took their position, replacing the earlier towers. These towers' structural style was closely mimicked in the construction of the Cape Neddick Lighthouse in 1879.
It is stated that the west tower formerly had a single, huge, vertical red stripe painted on it while the east tower had four horizontal red stripes painted on it, however there is little contemporary visible evidence to back up this assertion.
Although the west tower ceased to function in 1924, the surviving east tower illuminates a 15-mile radius from its position 129 feet above sea level. The original second-order Fresnel lens made way for an FA-251 lens, which was later replaced by a VRB-25 aerobeacon in 1994.
Tumultuous events at Cape Elizabeth Light station are nothing new and many stories are shared among locals about especially frightening incidents.
Among the most infamous was a large ship run aground on the cape in a blizzard in the winter of 1885. It is said that the keeper of the age (Marcus Aurelius Hanna), who was already exhausted from doing his responsibilities while unwell, put his life in danger in order to save two crew members from falling or freezing to death.
Cape Elizabeth Light Station consisted of a dual set of 65-foot stone beacons from its inception early in the 19th century. By 1874, wear-and-tear had rendered a rebuild necessary and two similarly sized cast iron towers took their place. Numerous attempts to shutter the western light were reversed before its eventual conversion to an observation post.
Planning Your Visit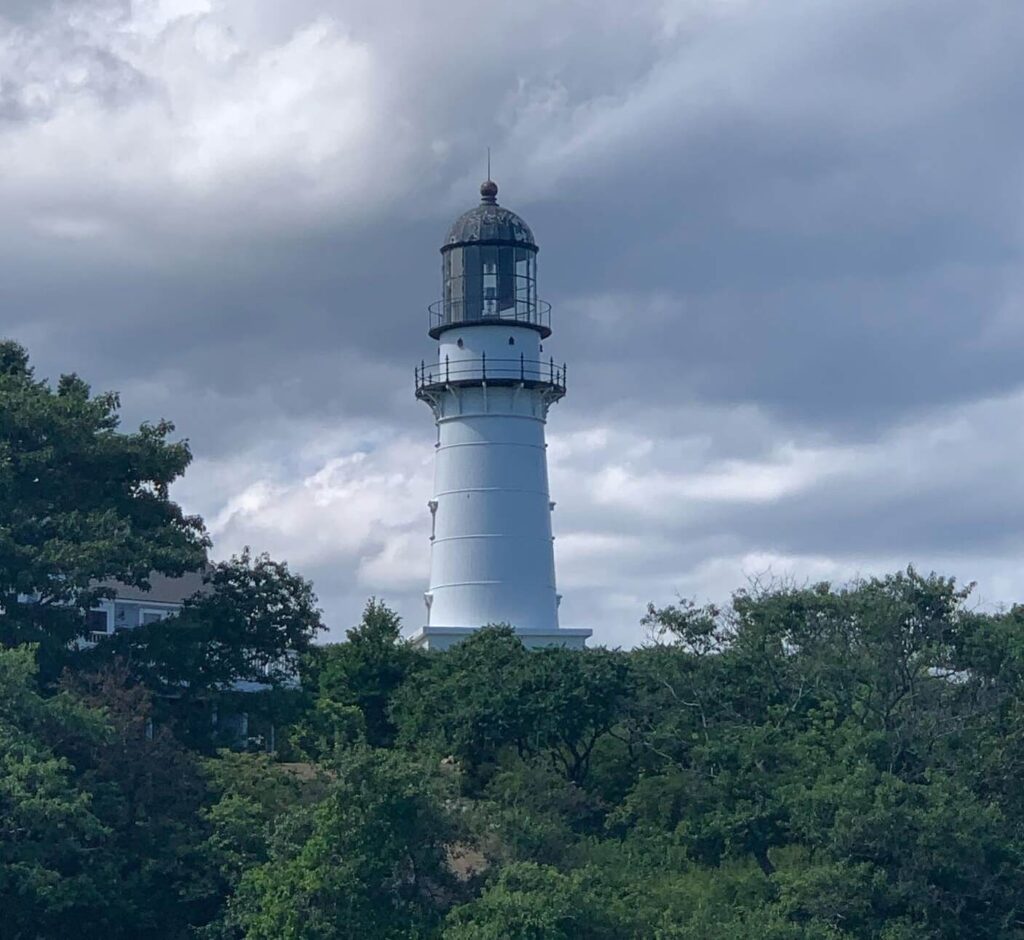 Cape Elizabeth Light, a mainland lighthouse, is situated at Cape Elizabeth at Two Lights State Park, which is along Route 77.
Although not accessible to the general public and privately owned, the lighthouse and its grounds may be seen from the park at the end of Two Lights Road.
For those who are feeling a little more daring, a little stroll up Two Lights Terrace and Beacon Lane offers a closer glimpse.
Directions
Take exit 7 from I-95 and go right down the ramp onto Route 1 (Main Street)
To get to Broadway, use Route 1 and turn left (north)
On Broadway, veer right but keep to the left
To reach Route 77, follow Broadway
Turning south on Route 77 will take you 4-5 miles to Two Lights Road
Turn left along Two Lights Road, then scan the west for the lighthouse
The grounds and lighthouse are off limits to the general public
The lighthouse is on the mainland in Cape Elizabeth near the picturesque Two Lights State Park. Although the grounds are privately owned and inaccessible, pleasant views can be taken in from the park at the end of Two Lights Road.
Interesting Facts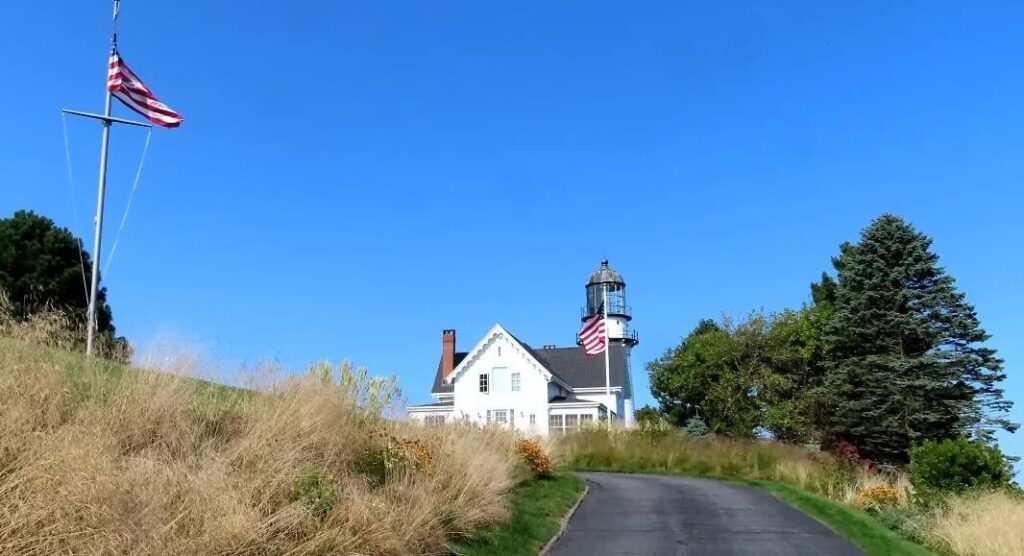 The two light towers were similar in design and situated 300 yards apart. Indeed, both lights were 65 feet tall and 129 feet above sea level. The east light still has the same look that both formerly had, but the west light was converted into an observation post during World War II.
Six levels make up the lighthouse's main shaft, with protruding circular ridges at the top and bottom dividing each tier. As the shaft ascends, the stages' sizes slowly diminish.
On the east and west sides of the light, the first, third, and fifth tiers all have windows. This cast iron architectural accent has a design evocative of Mediterranean Renaissance architecture. The circular balcony that is situated on the sixth tier is another attractive cast iron component.
The beacon, which was initially kerosene but has been electric since 1925, is located on top of the lighthouse. The beacon features a big ball atop its domed roof, which is encircled by glass.
Around the base of the beacon area is a second, less ornate cast iron balcony. An iron ladder connects the two balconies.
The "Two Lights" of Cape Elizabeth serve as a stark reminder of a time a century ago when even the most utilitarian buildings were gifted with a proud elegance and dignity of design.
A famous Edward Hopper picture from 1929 called "The Lighthouse with Two Lights" included the east lighthouse as its subject. Hopper's artwork served as the inspiration for the first lighthouse to appear on a U.S. postage stamp, which was issued in 1970 to mark the sesquicentennial of Maine.
Key Information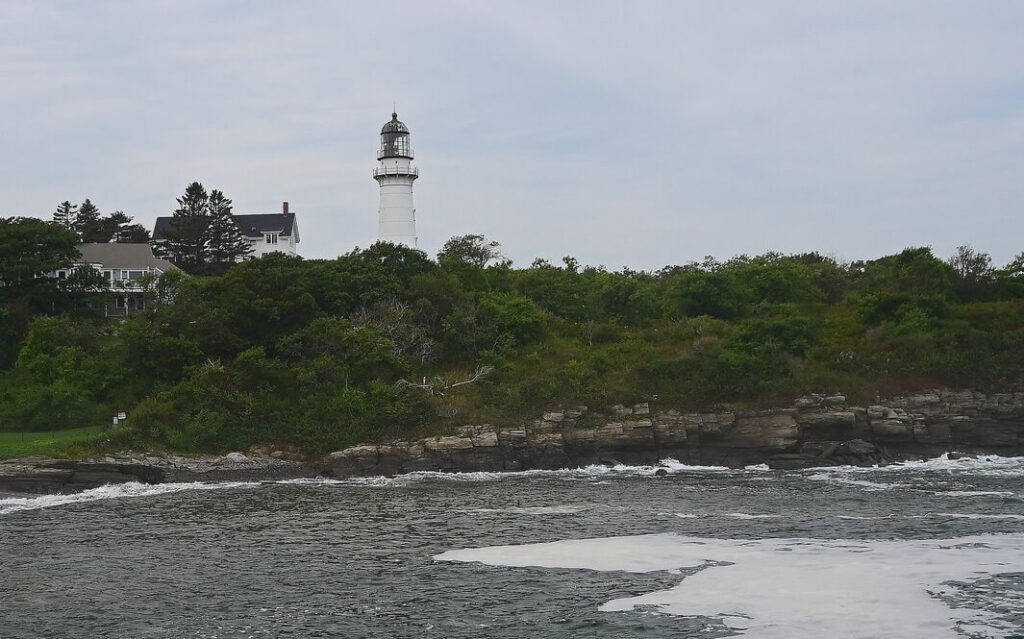 | | |
| --- | --- |
| Location | Near Cape Elizabeth, ME (43° 33′ 57″ N,  70° 12′ 00″ W) |
| Established | 1828 |
| Height | 65 feet (129 feet above sea level) |
| Type  | Conical tower |
| Construction | Cast Iron |
| Architect | Jeremiah Berry (original) & US Army Corps of Engineers (1874 rebuild) |
| Sequence | White light (ON – 0.3 seconds, OFF – 2.2 seconds (x3), ON – 0.3 seconds, OFF – 7.2 seconds (x1)) |
| Fog Horn | 2 sounds every 60 seconds |
| National Register of Historic Places | Added 1974 |
| Administrative Address | American Lighthouse Foundation (P.O. Box 889, Wells, ME, 04090) |
FAQ
Where is the best place to park?
Cape Elizabeth is a sleepy outpost relatively far removed from bustling Portland. Park at Two Lights State Park if you'd like to take in a beautiful stretch of coastline before wandering toward the lighthouse. Alternatively, for quickest access, navigate and park closer to Dyer Cove to the north.
What other facilities and views are available?
If you've made the effort to come this far out of the comfort of Portland, you're in luck. The surrounding area is packed with quintessential Maine beauty. Among the highlights are Crescent Beach State Park (and Crescent Beach itself), Kettle Cove, and Two Lights State Park. These locations are ideal for a short stroll and enjoying the fine views.
For some fun and adventure, head to Dyer Cove adjacent to Cape Elizabeth Lighthouse. Take time to clamber over the rocks while taking in some of Maine's famously rugged scenery.
What are the best dining and accommodation options nearby?
The Lobster Shack at Two Lights is open seasonally and has enduring appeal with locals and tourists alike. The Good Table and Sea Glass are also pleasant nearby choices. Since Cape Elizabeth is an approximately 20 minute drive from downtown Portland, accommodation options run the gamut from more rural guesthouses to downtown city hotels.
Video