Portland Breakwater Light, which is situated not far from South Portland's shore, serves as a guide for ships in Casco Bay. The present lighthouse was constructed in 1875, replacing the old one that was opened in 1855 as part of the extensive Portland Breakwater that guards the port from the Atlantic Ocean's destructive storms.
History of Portland Breakwater Light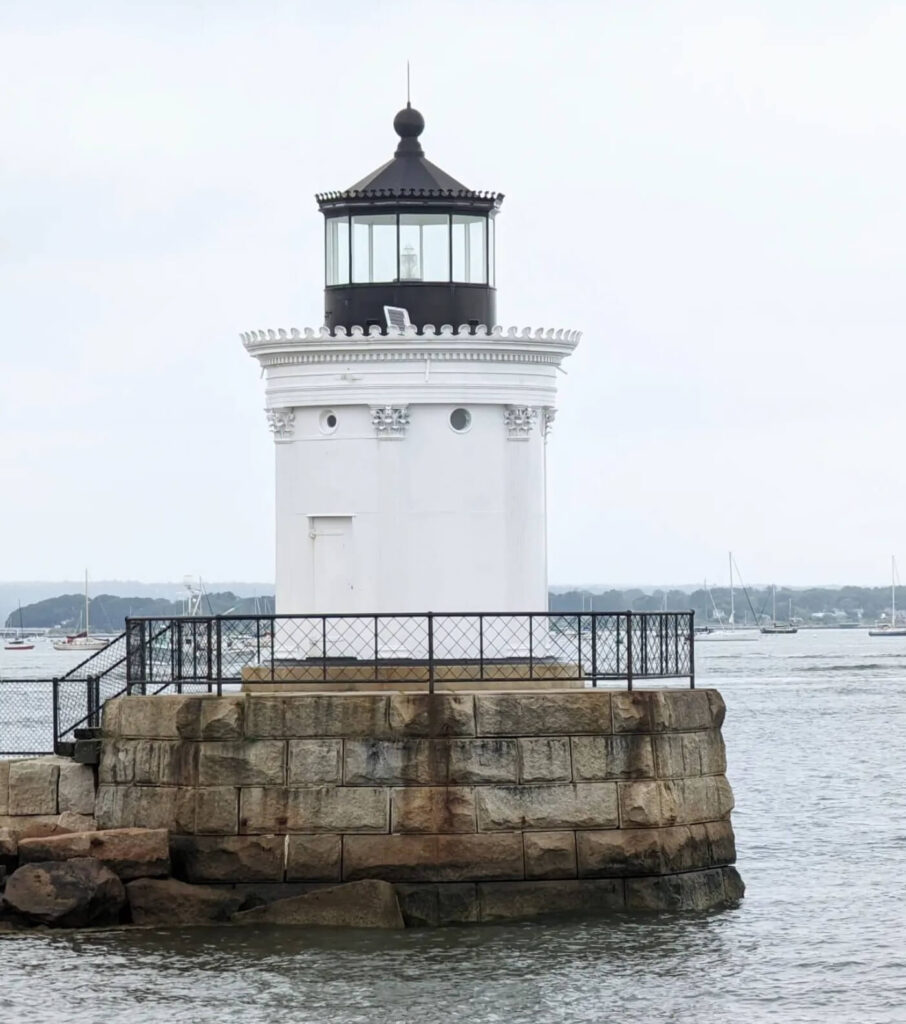 Originally constructed in 1855, this Greek Revival building was subsequently renovated in 1875. In 1943, the building was abandoned. The structure's architecture and unique style were unaltered throughout the 1875 reconstruction.
Indeed, Portland Breakwater Light is significant because of its distinctive design and construction. It stands today as an icon of Maine's 19th century seafaring tradition, a period in which economic prosperity grew in tandem with the thriving shipping industry.
Built to help ships at sea locate Portland Breakwater, it also shows how important it was to 19th-century Americans to create an aesthetically appealing building that served its intended purpose. Its Greek Revival design brought with it a sense of refined taste and sensibility to Portland's inner harbor.
"Bug Light," as it is affectionately known, was built in 1855 and renovated in 1875. It was intended to help ships identify Portland Breakwater. It is best known for its unique and refined architectural style.
Planning Your Visit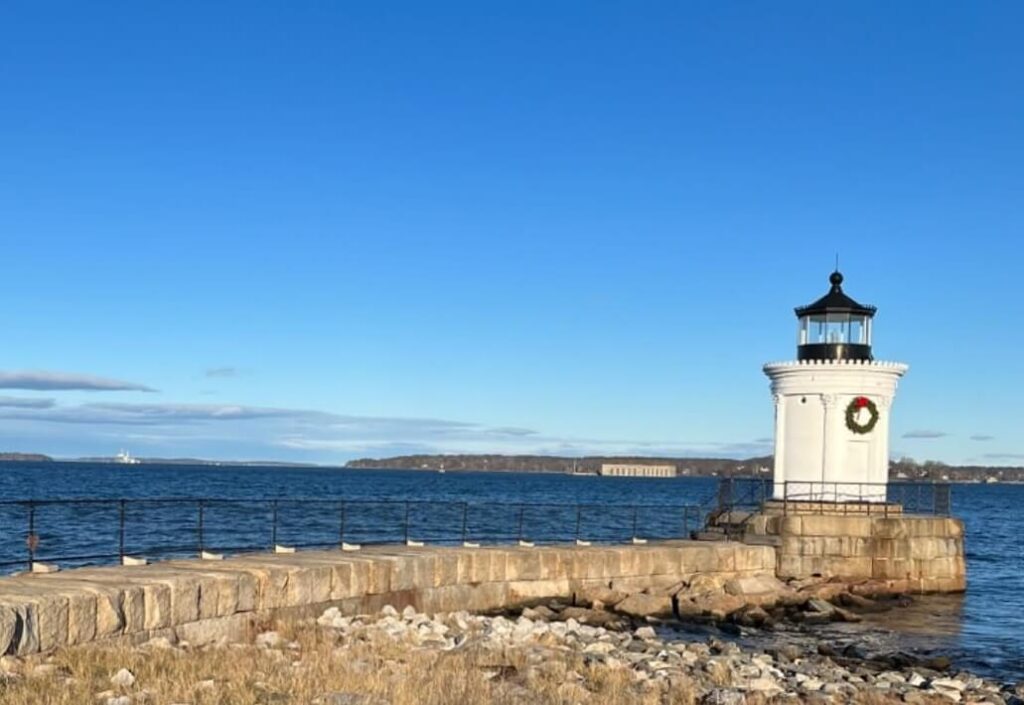 The modest 26 foot structure is perched upon the Portland Breakwater in South Portland's Bug Light Park. Access to the park is via Madison Street.
Those in Downtown Portland not wishing to make the journey across the bay can enjoy views of the lighthouse from the famous Eastern Promenade Trail.
The light tower is not open to the general public, but the grounds and surrounding area are freely accessible. Those itching to see inside or get a closer look will have to wait for the once annual Maine Open Lighthouse Day.
Held in September, this special occasion marks the public's only opportunity to see inside a number of Maine lighthouses that are otherwise entirely inaccessible.
What you'll see
Bug Light's claim to fame is its distinctive styling and decorative appeal. Its unusual charm has made it something of an icon in the local area. Indeed, it is fondly regarded despite not being nearly as imposing as many of its contemporaries.
Architect Thomas Ustick Walter, famous for designing the cast iron dome of the U.S. Capitol, is rumored to have played some role in the construction of Portland Breakwater Lighthouse.
The structure is reportedly inspired by the famous Choragic Monument of Lysicrates, located near the Acropolis in Athens and dating to approximately 334 B.C. This fact loans credence to Walter's supposed involvement, as he was among the foremost Greek Revivalists of the era.
The building, finished in 1855, is a circular tower with a diameter of nearly 12 feet. It is composed of columns of cast-iron plates with the seams in between covered by and decorated with Corinthian capitals.
Situated at the end of the breakwater, the lighthouse's foundation is made of stone. Its walls measure roughly 6 inches in thickness. The aforementioned cast iron plates dominate the exterior but are reinforced by 4 inches of brick.  The interior walls are also plastered.
Directions
Take exit 7 from I-95 and go right down the ramp onto Route 1 (Main Street)
Follow Route 1 north (to the left) to Broadway
Bear right onto Broadway but then keep to the left
Next, stay on Broadway (continue past the bridge to Portland on the left)
After reached the end of Broadway, turn left into Breakwater Drive
Breakwater Park is located at the end of Madison Street, where you should turn right
Bug Light Park (home to the lighthouse) is freely accessible but the inside of the structure is off limits, except during Maine's annual Open Lighthouse Day. Views of the diminutive tower can also be enjoyed from Downtown Portland's Eastern Promenade Trail.
Interesting Facts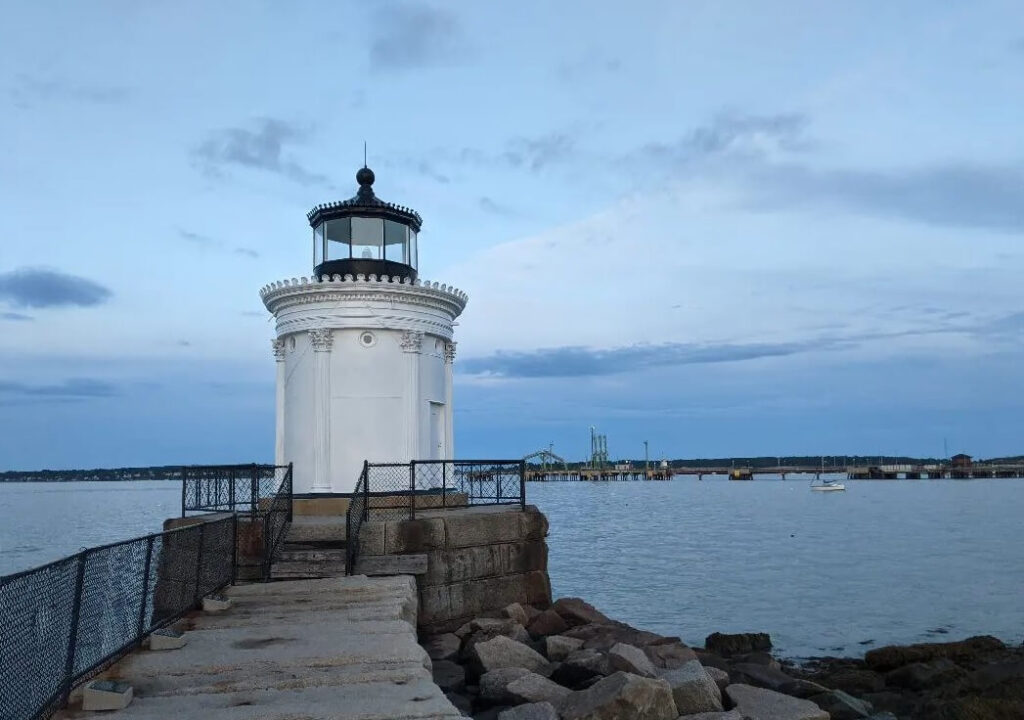 The six Corinthian columns embedded into the tower's sides set it apart from other lighthouse towers and were constructed to imitate the works of ancient Greek architects.
A sixth-order Fresnel lens was introduced as part of the 1875 lighthouse renovation but has since been removed. When the old keeper's quarters from 1889 were demolished in 1934, the light was automated.
The keeper from the neighboring Spring Point Ledge Light was then given the additional responsibility of caring for both of the stations. When the government filled in the breakwater to provide dry docks for the war effort, Portland Breakwater Light was completely turned off.
The lighthouse was renovated in 1973 by the South Portland Rotary Club and the Spring Point Ledge Light Trust but it was clear that more work was needed.
Eyeing a restoration that would include a fresh coat of paint and structural repairs, the Maine Historical Preservation Committee started raising money in 1989.
The lighthouse project was finished in 2002, and on August 14, 2002, the beacon was re-illuminated with a 250-mm optic that flashes white every four seconds. Today, Portland Breakwater Light is the crowning feature of a popular public park.
Due to the light's diminutive size, it was given the moniker "Bug Light." The present cast iron building was built in 1875 to replace the octagonal timber tower that had been the original construction from 1855.
This cast-iron tower, at 26 feet tall, has a distinctive design. Its six fluted columns encircle the structure and have a decorative finish. Again, although it is unclear why such an elaborate design was selected for this light, it has been speculated that renowned architect Thomas Ustick Walter may have contributed.
Key Information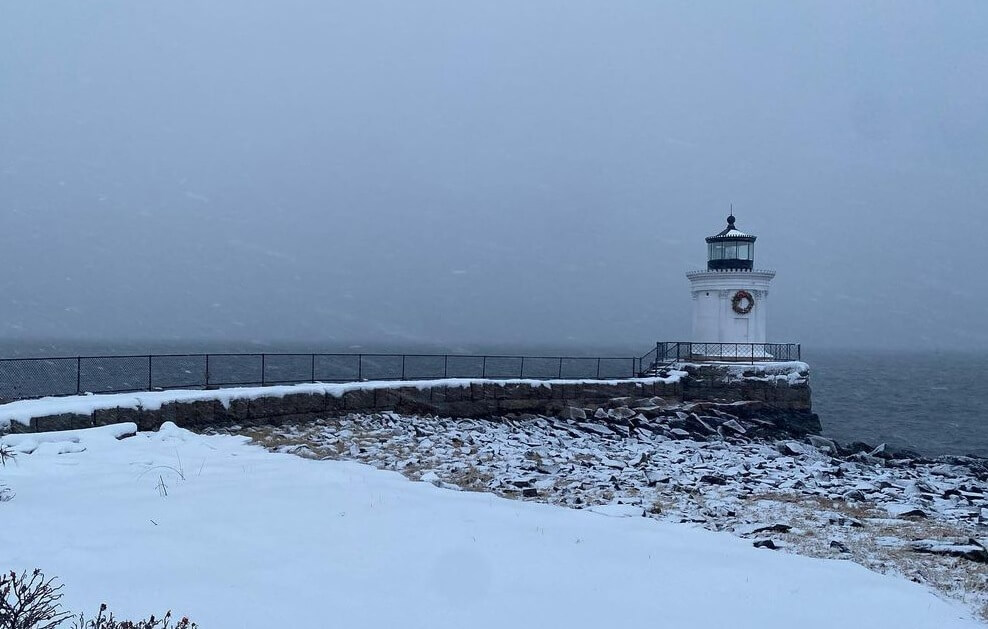 | | |
| --- | --- |
| Location | Near South Portland, ME (43° 39′ 19″ N,  70° 14′ 05″ W) |
| Established | 1855 |
| Height | 26 feet (39 feet above sea level) |
| Type  | Greek Revival |
| Construction | Cast Iron/Brick |
| Architect | Thomas Walter (unconfirmed) |
| Sequence | Red or white light (ON – 4 seconds, OFF – 4 seconds) |
| Fog Horn | None |
| National Register of Historic Places | Added 1973 |
| Administrative Address | City of South Portland (25 Cottage Road, South Portland, ME 04106) & Phone (207) 767-3201 |
FAQ
Where is the best place to park?
Bug Light/Breakwater Park is located at the end of Madison Street. There is a considerable amount of parking overlooking the bay. These parking spaces offer beautiful views and are just a few hundred feet away from the tower via a short, paved trail.
What else is there to enjoy?
The park boasts wonderful shoreline views, a large, grassy field, and a number of picnic benches. It is also home to the Liberty Ship Memorial, commemorating the efforts of local shipbuilders in WWII. The southern end of the park is home to the South Portland Historical Society building. The museum here offers a fascinating insight into maritime history.
What are the best dining and accommodation options nearby?
Spring Point Tavern is popular with tourists and locals alike for refreshments. The nearby Sunset Marina is a picturesque location and very enjoyable during the summer. Close by is the popular seafood spot Saltwater Grille.
South Portland isn't as bustling or tourist-oriented as downtown but still has a number of pleasant guesthouses and vacation rentals on offer. Its proximity to downtown makes it easily accessible by car for those staying in Portland.
Video