The Goat Island Light Station is made up of a boathouse, a brick oil house, a converted keeper's residence, and a separate cylindrical brick tower. Previously, a large covered walkway linked the house to the tower. Today, Goat Island is a pretty and scenic spot open to visitors on a seasonal basis.
History of Goat Island Lighthouse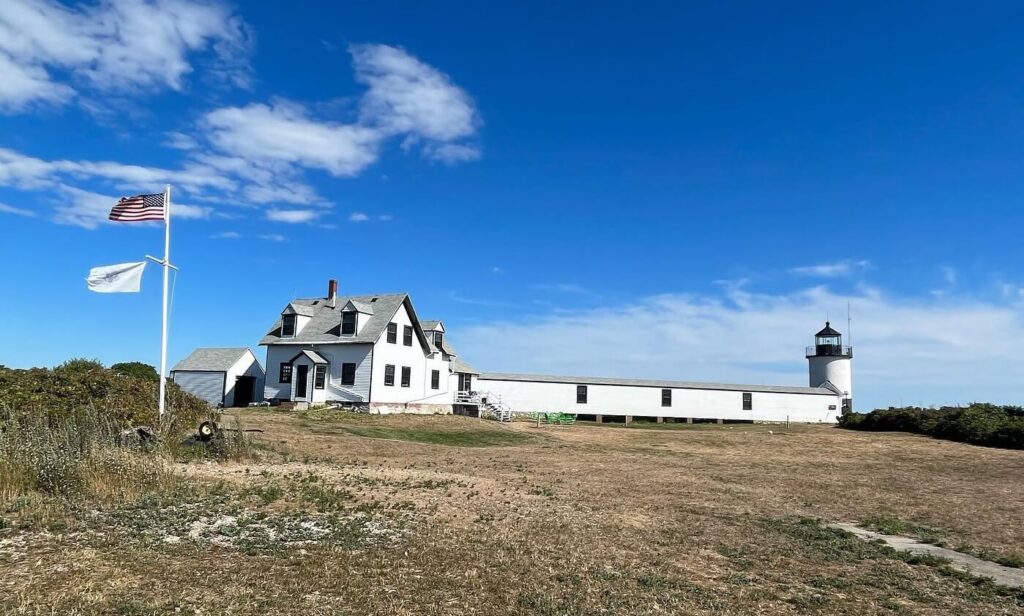 Goat Island's lighthouse was built in 1835 to serve as a landmark for travelers heading to Cape Porpoise's port of refuge.
The light station, which is situated on the southern side of treeless Goat Island, acts as both a navigational aid and a warning signal for the many tiny islands and rock shoals that dot this narrow length of coastline northeast of Kennebunkport.
Although the 1848 light list suggests that the tower was around twenty feet tall, the station's original layout is not known for sure. The tower and house were demolished in 1859, and their (still) current replacements were constructed.
Goat Island Light, which marks the entrance to Cape Porpoise Harbor, is situated not far from Kennebunkport, one of New England's first towns, on the southern extremity of Goat Island.
President Jackson ordered the construction of a 20-foot stone tower in 1835 at a cost of $6,000; the beacon was changed to a 25-foot brick tower with a fifth-order Fresnel lens in 1859. Since the light was automated in 1990, a 300-mm optic has been in place.
It has a 12 mile illumination range at 38 feet above sea level and flashes white every six seconds. Goat Island Light, the second-to-last automated light in the nation, was operated until 1990 by a conventional lighthouse family.
Goat Island Lighthouse is a modest but pretty, 25-foot-tall structure. It was one of the final US lighthouses to be fully automated.
Planning Your Visit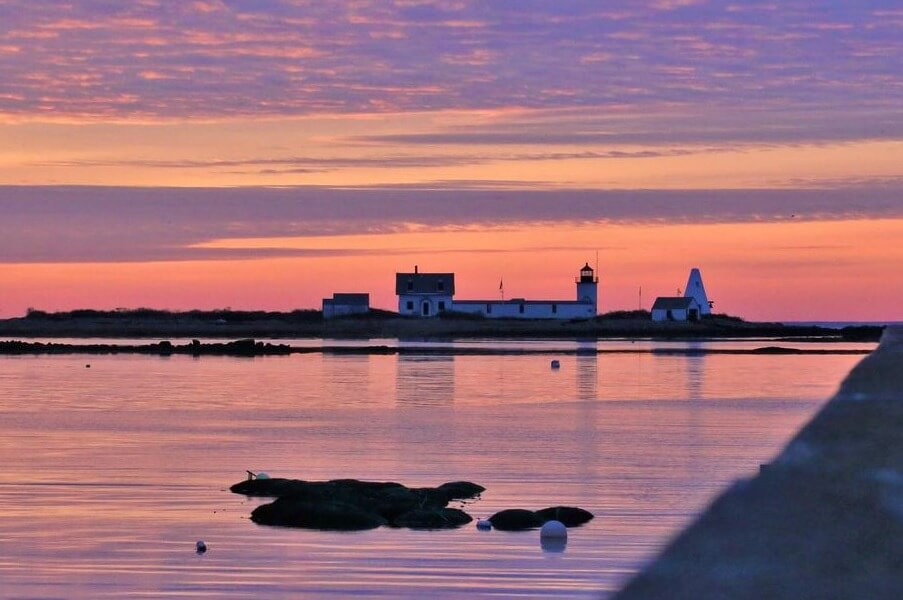 Goat Island itself is in close proximity of Cape Porpoise, ME. The lighthouse may be seen distantly from the end of Pier Road in Cape Porpoise.  The island is also reachable by boat and available to visitors on a seasonal basis.
During high tide, small boats are permitted to dock and visit the site. Some visitors make the short crossing by kayak but we do not recommend this for inexperienced individuals. Two companies offering kayak rental in the vicinity are Kayak Excursions at (888) 925-7496, or Coastal Maine Kayak at (207) 967-6065.
Otherwise, boat trips leaving from nearby towns may be used to get up close views. EcoAdventures in Kennebunk provides one such cruise. On Maine Open Lighthouse Day, the Goat Island keeper's residence and light tower are available for tours.
This annual occasion staged in late summer/early fall is hugely popular with locals and visitors alike. It provides a unique opportunity to see the inner workings of Maine's historic lighthouses in intricate detail.
Kennebunkport Conservation Trust owns and maintains the site and are therefore the most useful source of first-hand information on Goat Island Lighthouse.
They point out that a small dock is available for guests arriving by boat (at high tide and approx. 1-2 hours either side). Today, the lighthouse keepers are Scott and Karen Dombrowski and they reside in the residence on the island.
When home, they welcome visitors to request a tour of the tower. However, keep in mind that their home is also a private residence.
Directions
Take the Kennebunkport exit off of I-95, then take Route 35 east until you reach Kennebunk
Continue east on Route 35/Highway 9A until you reach Kennebunkport
On Highway 9, turn left (northeast) to reach Cape Porpoise
Turning east on Pier Road at Cape Porpoise will take you to Bickford Island
Bickford Island offers pleasant views over the outlying islands and is a popular spot for kayakers. Goat Island lies to the south of this location. Views from the land are somewhat distant and so the curious traveler may wish to take advantage of a tour to the island itself for a closer look.
Views of Goat Island Lighthouse from the shore are somewhat distant. Visitors can take advantage of a small dock to sail to the island either side of high tide. The lighthouse keeper's residence is still occupied and the keeper can provide tours of the tower if available. Organized tours and kayak rental are also available.
Interesting Facts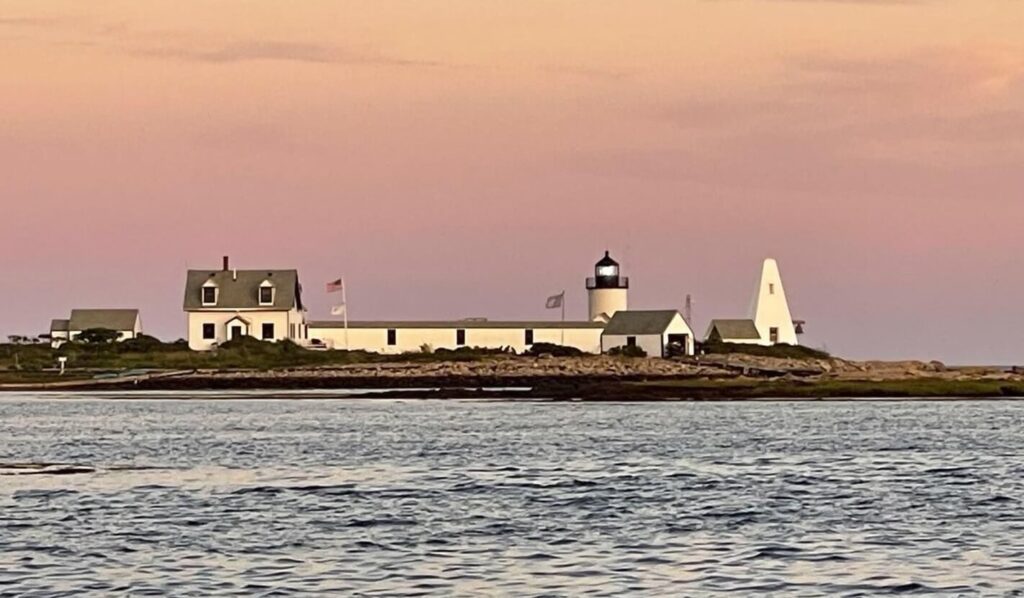 The 1859 light tower's circular design plainly identifies its mid-nineteenth-century construction date and, thus, its historical link to a number of other Maine lights.
From the tower's base to the center of the octagonal lantern, it rises 25 feet. The single window on its west face is located close to the base. The tower is surrounded by a ring-shaped walkway and railing. Meanwhile, a ventilator with a spherical shape sits above the lamp.
A little brick workroom with two doors protrudes from the tower's north side. The lengthy covered passageway leading to the home was formerly linked to the tower. This element has been replaced by an open wooden boardwalk.
The L-shaped keeper's house (also rebuilt in 1859), which is covered in clapboards and faces north, features two dormers with gable roofs and a three-bay front. It features a pair of bay windows surrounding the modest vestibule with a gable roof that is centrally positioned.
It also houses a one-story wing extending to the south and a gable-roofed dormer on the west side. A dormer and a porch may be seen toward the rear. The original keeper's residence had only board-and-batten cladding.
Interestingly, Secret Service personnel were stationed on Goat Island during the administration of George H. W. Bush in order to monitor the president's visits to his Kennebunk, Maine, residence.
The Kennebunkport Conservation Trust oversees the safeguarding of Goat Island and the lighthouse, which were handed over in 1998 as a gift from the US government.
Key Information
| | |
| --- | --- |
| Location | Near Cape Porpoise, ME (43° 21′ 28″ N,  70° 25′ 30″ W) |
| Established | 1833 |
| Height | 25 feet (38 feet above sea level) |
| Type  | Cylindrical tower |
| Construction | Brick |
| Architect | US Army Corps of Engineers (1859 rebuild) |
| Sequence | White light (ON – 6 seconds, OFF – 6 seconds) |
| Fog Horn | 1 sound every 15 seconds |
| National Register of Historic Places | Added 1988 |
| Administrative Address | Kennebunkport Conservation Trust (P.O. Box 7028, Cape Porpoise, ME, 04014) |
FAQ
Where is the best place to park?
The best parking option will depend on your plan for your visit. If you wish to seek a skyline view or hop in a kayak, head to Bickford Island. If instead you choose a boat tour then your choice will obviously be guided by the departure point of your particular tour. This may well be somewhere in the vicinity of Kennebunkport.
Where is the best place to view and photograph the lighthouse?
From Bickford Island (at a distance) or, of course, for the best possible opportunities to capture the lighthouse's unique spirit, from Goat Island itself. Being up close and personal also offers the inimitable feeling of being part of a special and unique chunk of Maine's untamed maritime history.
What other facilities and services are available?
Their is a small dock on the island that can be used for 1-2 hours either side of high tide. The lighthouse keepers can provide tours of the tower (if they are available). Keep in mind, however, that this is a private residence and should be treated respectfully. Furthermore, in-depth tours are available during Maine Open Lighthouse Day, an annual event.
What are the best dining and accommodation options nearby?
Bickford Island is home to Pier 77 and the famous Cape Pier Chowder House. Both restaurants offer vistas of the stunning coastal scenery all around. Kennebunkport is approximately a 10 minute drive from Bickford Island and has no shortage of quality dining and lodging options.
Video